McDonough Sponsors Free Student Loan Workshop March 23
March 10, 2020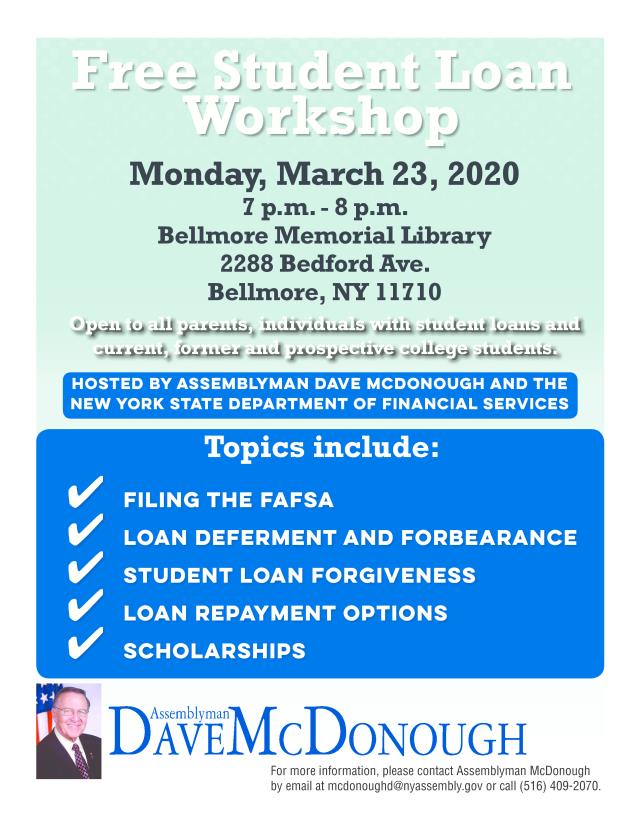 Assemblyman Dave McDonough (R,C,I-Merrick) announced today that he is sponsoring a free student loan workshop on Monday, March 23 at 7 p.m. at the Bellmore Memorial Library located at 2288 Bedford Ave. in Bellmore. The event will be hosted by Scott Ahrens from the New York State Department of Financial Services.
The event is open to all parents as well as current, former and prospective college students. The workshop will cover filing your FAFSA, loan deferment and forbearance, student loan forgiveness, loan repayment options and scholarships.
"Student loan debt is already a trillion dollar problem in the United States and an unavoidable part of a college education for so many New Yorkers," McDonough said. "Knowing the ins and outs of college financing, as well as the best way to pay back your loans, is key in the crusade for post-college financial freedom. If you have student loans or are a parent of someone who does, please do not hesitate to attend this free and very helpful workshop."