The Governor's budget cuts education
aid by $1.1 billion from what
our schools would receive

In what has sadly become an annual event, the Governor's 2001 budget proposal jeopardizes the quality of education our children will receive and places additional burdens on local taxpayers. The Governor's so-called school funding "reform" actually cuts state education aid by $1.1 billion from current law and fails to address inequities in the school aid formula. This, at a time when local districts are struggling to raise educational standards and prepare our kids for the challenges of the 21st Century.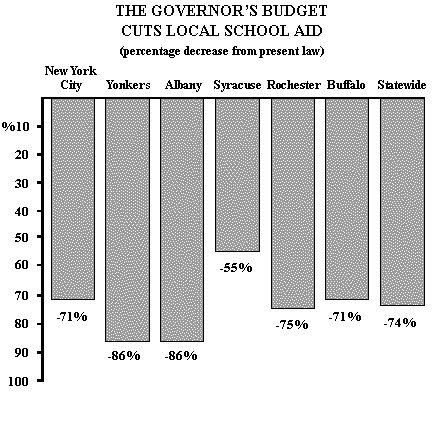 Educators Agree:
Governor's budget fails to meet the needs of our schoolchildren
"The proposed aid increase is insufficient to help all students meet the new standards."

Timothy G. Kremer NYS School Boards Assn.
"For me, flexibility should not be a trade-off for reduced funding."


Georgia Asciutto, Conference of Big 5 School Districts
"The proposed education budget is disappointing, but eminently fixable."


New York State United Teachers
"The Governor dropped the ball. This (3% increase) is nothing. It's insulting."


Ronald Ross, Mount Vernon Superintendent
"I'm very disappointed...in terms of just increases in aids, he has not begun to address the needs of Utica."


Daniel Lowengard, Utica Superintendent