Warning: include(../../../lib/main_functions.php): Failed to open stream: No such file or directory in /var/www/html/main/write/upload/comm/postings/2010/20100119_0035283/index.php on line 176

Warning: include(): Failed opening '../../../lib/main_functions.php' for inclusion (include_path='/opt/php81/include:/var/www/html/main/lib:.') in /var/www/html/main/write/upload/comm/postings/2010/20100119_0035283/index.php on line 176


Legislative Update from the New York State Assembly
Committee on
Economic Development
Sheldon Silver, Speaker
•
Robin Schimminger, Chair
Winter 2009

Robin Schimminger, Chair
Committee on Economic Development
---
District Office
3514 Delaware Avenue
Kenmore, NY 14217
716-873-2540
Albany Office
LOB 847
Albany, NY 12248
518-455-4767
Dear Friend,
With the state's Empire Zones Program now scheduled to sunset in 2010, the future direction of New York's economic development efforts was the subject of public hearings held by the Economic Development Committee this fall.
The 2009-2010 state budget embodied significant reform and change in the state's Empire Zones Program. New more stringent tests for existing participants in the program were enacted and are being applied retroactively. Future participants must meet even higher standards. The sunset of the zones program was accelerated to June 30 of 2010. Businesses considering expansions and site selectors are unsure of the nature of state assistance going forward. Even surviving participants in the zones program are unsettled by the prospect of the state changing the rules in midstream again. While the economic development and business sector looks for certainty and reliable partnership with the state as business decisions on expansions or projects in the pipeline are being made, there is little but uncertainty on the horizon.
It may be an over-used metaphor but New York State does indeed find itself at a critical crossroads in economic development. We need to re-establish trust, undo the damage that has been done, and set the state on the economic development road of predictability and continuity. We can achieve that goal by quickly establishing a better program, and having it in place by early spring. Or, failing that, we can extend the Empire Zones Program as it is now reconstituted well into the future, beyond this June's currently scheduled sunset date.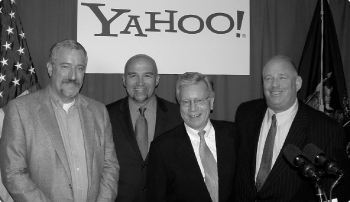 Welcoming Yahoo! to W.N.Y. David Dibble, Executive Vice President for Service Engineering and Operations of Yahoo! Inc., Thomas Kucharski, President & CEO of Buffalo Niagara Enterprise, Chairman Schimminger and Richard Kessel, President & CEO of the New York Power Authority, (left to right) are pictured at the recent announcement that Yahoo! would be locating its new East Coast Regional Data Center in the Town of Lockport in Niagara County. The $150 million project, which is expected to create 125 well-paying, high-tech jobs, was cemented by an allocation of 10 megawatts of low-cost hydropower from NYPA.
After hearing from a number of economic development professionals and business leaders, both at the hearings and over the course of the past year, it's become clear to me that if the course is to transition to a new program, it should cover four bases.
First, it needs a globally competitive component that site selectors and in-state companies can know of and count on as an inducement for business attraction and expansion. It must be as robust as the current zones program's "regionally significant project" component, which could simply be carried forward.
Second, distressed communities need special attention. Many of these communities have a particular type of zone—called "census tract" or "investment" zones. By building upon these zones and applying the 2009 standards, the state will be both returning the zones program to its original distressed community focus and tightening up the program.
Third, a new program should pay special attention to the needs of companies which generate the greatest economic benefit in importing dollars into a community by exporting goods and services out of the community, especially those companies which use local supply chains to acquire the ingredients of their exported goods or services. We simply cannot afford to lose any more of these "high value" enterprises—such as manufacturers.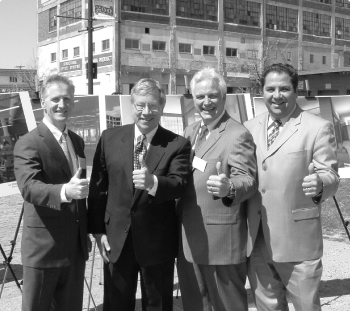 Celebrating Progress. Chairman Schimminger was joined by Christopher Hogan and Gary Bichler of R&P Development and architect Steven Carmina (left to right) earlier this year at the groundbreaking for the Remington Lofts on the Canal project in North Tonawanda. The renovation of a dilapidated former Remington Rand factory overlooking the Erie Canal into an innovative, mixed-use facility with work/live lofts, a restaurant and other amenities is being aided by a $1 million Restore NY grant and $500,000 in Assembly capital funding secured by the Assemblyman.
Fourth, in an ever-changing world, a new program affords the opportunity to provide the missing link in the "innovation continuum" in New York State. While New York is home to countless creative innovators, and while we spend immense sums on research and development, we paradoxically provide disproportionately little assistance in early-stage seed capital funding. As a result, new start-ups either fail or leave the state before they reach the venture capital stage and may end up producing their cutting-edge products invented here elsewhere. Early-stage seed capital funding can bridge their "valley of death" and generate deal streams for venture capital investment here in New York.
A new program that covers all four of these bases would be a home run for New York. But to stay in the big leagues, it must be put in place quickly. Failing that, we may be better off to continue the current zones program as it is now reconstituted.
Sincerely,



Robin Schimminger Chair,
Committee on Economic Development
---
Equal Access to Justice Act: Revisited
Small businesses able to "fight back" against unjust state actions
For too many years, small businesses were victimized by overreaching actions by state agencies which overzealously pursued their regulatory goals, sometimes beyond what the law allowed. Too many times, small businesses simply acquiesced since the costs of going to court and paying high legal fees outweighed the cost of compliance.
To address this problem, I authored New York's Equal Access to Justice Act (EAJA) to allow small businesses, not-for-profit organizations and individuals of modest means to fight back in the face of state agency actions which lacked substantial justification and got it enacted into law in 1989. The EAJA authorizes an award of attorney's fees and court costs to small businesses and other eligible litigants who have been wronged by the unjustified actions of New York State agencies and prevail when challenging those actions in court.
Over the years, I have monitored the value and importance of the law to determine whether changes or updates were required. Recent court decisions, beginning with a U.S. Supreme Court ruling in 2001 (Buckhannon v. West Virginia Dept. of Health and Human Services, 532 US 598), have effectively chipped away at the EAJA. As a result, New York courts no longer find these litigants to be the "prevailing party" entitled to attorney's fees when the state agency simply settles prior to a final judgment, often in order to avoid paying the small business's attorney fees and court costs under the equal access law. This now requires a change in the EAJA to preserve its ability to do what it was designed to do: give "the little guy" or "underdog" a more equal playing field when taking on state agencies that overstep their authority.
The court decisions impacted the use of EAJA in such a significant manner that for the 2007-2008 state fiscal year no attorney's fees were paid by state agencies in these types of cases. As a result of this failure to award fees as contemplated by the equal access law, small businesses, non-profits and qualifying individuals are increasingly unwilling to use the equal access law to fight back. The effectiveness of the EAJA in tempering overarching state action is negated, and the ability of small businesses, not-for-profit groups and people of modest means to fight back by having their attorney fees and court costs covered is trumped by state agencies simply settling before a final judgement is reached.
I introduced legislation,
Fatal error: Uncaught Error: Call to undefined function bill_link() in /var/www/html/main/write/upload/comm/postings/2010/20100119_0035283/index.php:357 Stack trace: #0 {main} thrown in /var/www/html/main/write/upload/comm/postings/2010/20100119_0035283/index.php on line 357