Project MOO
"mooving" along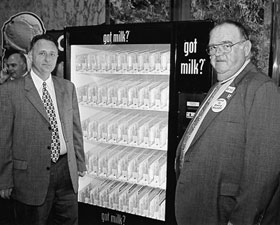 Chairman Magee and Scott Rapasadi of Aramatic Refreshment Services in front of a sold out milk vending machine on Dairy Day.
---
With milk making up only a small percentage of the beverages being sold from vending machines, it would seem that milk vending machines are a natural and untapped market that would improve the outlook for our dairy farmers and provide our school children and others with a nutritious and healthy alternative to soda.

Recognizing that, Chairman Magee along with the State University of New York at Morrisville have developed a program known as Project MOO (Milk Out in the Open) to place milk vending machines in schools.

The initial program placed MOO machines in three schools in Madison and Oneida Counties, with SUNY Morrisville students conducting taste testings and focus groups to determine the viability and profitability of milk vending machines. As a result, it was determined that students, overwhelmingly, will purchase vended milk, with one of their favorite flavors being chocolate.

With the number of milk and dairy based beverages and sports drinks continuing to increase there is little doubt that milk vending machines will become a common sight all around every town.


Making vended milk
a better sell

Making another try at improving the market for vended milk products in New York State, Assemblyman Bill Magee has introduced legislation similar to that previously vetoed that would provide an incentive for vending companies to get into the vended milk market.

The bill – A.11097 - specifically exempts vending companies from duplicative and burdensome state regulations while maintaining their strict adherence to the state sanitary code. The ultimate goal of this bill is to create a strong partnership with vending companies in order to create a larger market for vending milk from machines. In the end this will aid our dairy farmers, consumers and overall economy.

This bill is awaiting action by the Governor.


Federal Farm Bill benefits
New York dairies

Assembly Agriculture Committee Chair Bill Magee joined with others across the state in lobbying United States Senators Charles Schumer and Hillary Clinton, as well as the Congressional delegation, for a farm bill that was beneficial to New York dairy farmers.

The result is the Federal farm bill, which includes provisions to establish a three and a half year National Dairy Program. This program will provide assistance to dairy farmers through monthly payments equal to 45 percent of the difference between $16.94 and the Boston Class I price on the first 2.4 million pounds of milk. There are estimates that this could translate into an additional $15,000 in revenue annually for the average dairy farm in New York State.