Knowing where your food comes from…
With more and more food being imported to the United States and New York State, Assemblyman Bill Magee has introduced a series of bills to help consumers identify where the food they are buying was originally produced. These include:

Assembly bill A.3264 , which requires the country of origin to be displayed for all produce and vegetables sold in New York State.

Assembly bill A.7384, which requires the country of origin to be displayed for all meat and veal products sold in New York State.

Assembly bill A.4951, which passed the Assembly this session, would require the name of the city, village, or hamlet, along with the zip code of where milk is processed to be displayed on the milk carton.

Providing consumers with this sought after information would enable them to choose "locally grown, locally known" New York State products.
Helping farmers get their
"Slice of the Big Apple"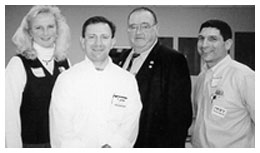 Chairman Magee along with Bonnie Bargstedt of New York Beef Producers and Stanley Fleishman and Gene Casazza of Jetro Cash and Carry.

Knowing the great potential that the untapped New York City market holds for New York farmers, Chairman Magee is working with the New York Wine & Grape Foundation to kick off the "Getting our Slice of the Big Apple: Creating a New York Cuisine" campaign. Its goal is to increase the amount of New York wines, vegetables, fruit and other products sold in New York City.

Additionally, Chairman Magee and other legislators — accompanied by a coalition of farmers, producers, and extension and economic development staff — recently toured Jetro Cash & Carry's Food Distribution Center in New York City. The goal of this visit was to promote New York agricultural products to New York City consumers. As one of the largest wholesale food distributors in New York City, Jetro sells mostly to mom-and-pop corner stores and "bodegas." Jetro is working with Chairman Magee, as well as various agricultural groups around the state, to vigorously promote New York farm products in New York City. This is an important partnership between rural producers and urban consumers that must be utilized in order to increase the revenue and profitability of New York's family farms.

Linking agriculture and education with Farm-to-School Program

With schools preparing over 1.5 million meals every day with a value in excess of $500 million per school year, the Assembly is taking the lead in promoting the purchase of New York grown and produced farm products by schools and colleges. Introduced by Assemblyman Felix Ortiz, the Chair of the Task Force on Food, Farm and Nutrition Policy, Assembly bill A.7684 calls for the creation of a Farm-to-School Program that would direct the Education Department to encourage schools to purchase New York farm products. It also provides easy access to purchasing information for schools, universities, and other educational institutions. This bill is awaiting action by the governor.

Vending milk now easier in New York

In an effort to create a larger vending market for New York milk products, Assemblyman Bill Magee introduced legislation (A.5925) that would exempt registered vending machine companies who must comply with the state sanitary code from also being registered as milk dealers. This law was created in order to ease the duplicative regulatory burden that vending companies faced when selling milk, thus making it easier for milk vendors to distribute their product in New York. The goal of this bill is to form a strong partnership with vending companies in order to create a larger market for vending milk from machines. This will aid both the dairy industry and the vending industry as well as promote milk to more consumers. One of Assemblyman Magee's main goals is to place milk vending machines in public schools as a healthy alternative to soda machines. The bill has passed both the Senate and Assembly and is awaiting the governor's signature.