Hoyt Appointed Committee Chairman
Assemblymember Sam Hoyt (D-Buffalo, Grand Island) was appointed by Assembly Speaker Sheldon Silver to head the New York State Assembly Committee on Alcoholism and Drug Abuse. Hoyt said, "I am honored by the opportunity to head this important committee. Alcoholism and substance abuse are in themselves among the most serious problems facing society today. Beyond their inherent seriousness as problems, they are linked to almost every other social problem, including domestic violence, homelessness, AIDS, and crime. It is an important task, which I take very seriously."
Hoyt added that governors and state legislatures have the largest financial, social and political interest in dealing with substance abuse and addiction, whether it involves alcohol or illegal drugs. States that want to reduce crime, slow the rise in Medicaid spending, move more people from welfare to work, and foster responsible and nurturing family life must dramatically increase their efforts to treat individuals who are addicted and prevent children and teens from abusing drugs, alcohol and nicotine.
Hoyt says his personal experience gives him a special perspective in chairing this committee. "I know how important the topic is from personal experience. I am a recovering alcoholic. I am one of the lucky ones, with a loving network of family and friends who intervened in my life and helped me give up drinking eleven years ago. I have not had a drink since and, God willing, I never will again. Since that time I have accomplished many things in which I take great pride. I got married and became a father, I got elected and took on public responsibility. I have achieved a level of personal happiness and productivity that is only a dream to so many who suffer from substance abuse. If my chairmanship of this committee can help others make a similar journey, from a life dominated by the disease of addiction, to personal dominance over that disease and a life of love and productivity, then my chairmanship will be successful."

Assembly calls upon the governor to proclaim September 2001 "Alcoholism and Drug Addiction Recovery Month"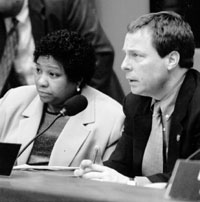 Assemblymembers Sam Hoyt and Diane Gordon listening to testimony during a Committee hearing on funding community-based substance abuse treatment.
By a unanimous vote, on Tuesday June 19, 2001, the Assembly passed a resolution memorializing the governor to proclaim September 2001 "Alcohol and Drug Addiction Recovery Month" in New York State.
The Assembly recognizes that alcohol and substance abuse are among the most devastating health, safety, and family issues facing New Yorkers today. The abuse of alcohol and other drugs is linked to automobile crashes, homicides and suicides, as well as violence, rape and sexual abuse, teenage pregnancy, HIV/AIDS, school dropouts and low literacy.
The resolution states that, "it is essential that we utilize our state's comprehensive network of prevention, treatment and research of addictions to provide the necessary tools for New Yorkers to make healthy and safe choices as we begin the 21st century."
"To help New York State's children stay alcohol and drug free, healthy and successful, they must be given clear and consistent 'no use' messages both inside and outside the home environment. It is absolutely necessary to involve the community to help strengthen the norms against alcohol and drug use and to avert the numerous other health and social problems related to addiction," the resolution continued.
The Assembly recognizes that New York State has made great strides in reducing drug and alcohol use among our youth, but our efforts need to continue. "Alcohol and Drug Abuse Recovery Month" is intended to spotlight and reinforce the efforts of parents, teachers, law enforcement, local governments, State representatives, health professionals, business leaders and the faith community to fight back against this scourge that affects communities all across the state.

Committee holds hearings to gather public input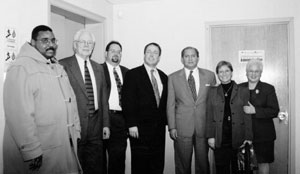 Assemblymember Hoyt and Committee staff meet with Assemblymember Peter Rivera and the staff of V.I.P. Community Services in the Bronx.
The Assembly Committee on Alcoholism and Drug Abuse held public hearings in Albany and New York City to allow addiction service providers, consumers and others the opportunity to voice their input on the State's strategies to fund alcohol and substance abuse services. Regrettably the governor's proposed budget slashes millions of dollars from already under-funded and overburdened providers.
Many of those who testified are experts in the field of substance abuse treatment and prevention, and they comprised a veritable "who's who" of the most respected and experienced voices in the profession. The witness list included Gayle Farman, Executive Director, NYS Council for Community Behavioral Healthcare; John Coppola, Executive Director, NYSASAP; David Hamilton, Ph.D., CSW, Associate Director, Human Services, NYS Catholic Conference; Sandra Ruiz Butter, President, VIP Community Services; Charles Devlin, Vice-President, Daytop Village and President, Therapeutic Communities Association; Ronald Brinn, Director of Public Affairs, J-CAP Inc.; Luke Nasta, Executive Director, Camelot of Staten Island; and Sandeep Varma, Regional Director, New York Therapeutic Communities, Inc.
Concerned citizens from across New York State made their message clear — combating substance abuse matters to New York, and the governor should increase spending on treatment and prevention, not cut it. Thanks to the efforts of Committee Chair Hoyt, this message was translated into action, as the Assembly budget resolution not only restores funding cuts by the governor, but demands that additional funding be appropriated to the organizations on the front lines of the battle to free our homes, schools and communities from the scourge of addiction and crime (click here to read story).