Leandra's Law Press Conference

State Capitol
Tuesday, November 17, 2009

{As Prepared for Delivery}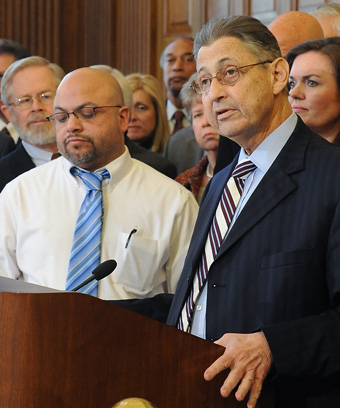 I am pleased to announce that the Assembly Majority has agreed to introduce the toughest DWI legislation in the nation.
Legislation that makes it a felony offense for an intoxicated driver to transport children and that mandates ignition interlock for those sentenced to all DWI offenses, including misdemeanors;
Legislation that hopefully, will protect children before a drunken driver can involve them in an accident, such as the terrible crash that took the life of 11-year-old Leandra Rosado.
Standing with me in support of this legislation are a number of my Assembly colleagues, including:
Assembly Minority Leader Brian Kolb;

Assemblyman Harvey Weisenberg, who is co-sponsoring this legislation with me;

And Assemblyman Joe Lentol, the Chair of the Committee on Codes.

Unfortunately, the Chair of the Committee on Transportation, Assemblyman David Gantt, is home ill and will not be with us today.
We are honored to be joined this afternoon by:
Lenny Rosado, father of Leandra;

Kate Hogan, President of the District Attorney's Association of New York State;

Chuck Hurley, Chief Executive Officer of the Mothers Against Drunk Driving [MADD];

And numerous representatives of law enforcement.
Let me say at the outset that my heart - and the hearts of this Conference and everyone here - go out to Lenny Rosado, to Leandra's family, and to every parent who has lost a child or seen their child injured because of drunken driving.
I met with Mister Rosado one week ago today. I listened intently to his words and I committed to him that we would pass the toughest law in the nation to address those who drive while intoxicated with children in their cars.
As you know, we have had - and continue to have - extensive discussions with the Governor and with our colleagues in the Senate.
We have listened to MADD. We have listened to the District Attorney's Association. I have spoken to Nassau County District Attorney Kathleen Rice. We have listened to the law enforcement community and to citizens from across this state.
As a Conference, we came to agreement that in memory of Leandra, we would advance DWI legislation that is tougher and more comprehensive than any that currently exists.
This is what we are introducing and I am delighted that the Assembly Minority Leader is here to indicate his support:
A law that establishes a new felony that applies to any person operating a motor vehicle while intoxicated (that means a blood/alcohol content of .08) and to any driver whose ability is impaired by alcohol and or drugs who have child passengers in their vehicles who are 15-years-of-age or younger.
Under our legislation a sentencing court will have no choice but to mandate that every person sentenced for any DWI offense - with children in the car or without children in the car - must have ignition interlock installed on their cars as a requirement for conditional discharge, probation or parole.
Interlock devices, as many of you know, prevent intoxicated drivers from starting their vehicles. If such a driver tampers with an interlock device, they are committing a crime under our proposal.
We create new penal law crimes to include operating a motor vehicle with child passengers aged 15 years or younger and causing their death or serious physical injury.
We amend the Vehicle and Traffic Law to require arresting officers, when they stop an intoxicated driver, to contact Child Protective Services if said driver is the parent, guardian, custodian, or otherwise legally responsible for the child passenger.
This is the crux of the legislation that we are introducing today.
We are confident that the Governor and our colleagues in the Senate will join us in making this tougher version of Leandra's Law the law of the State of New York.
Before I introduce the next speaker, let me take this opportunity to commend and to thank you, Lenny, for stepping up in a time of unfathomable sorrow and fighting to protect the children of this state from drunken drivers.
I salute you, we all salute you - both houses of the Legislature and both Assembly conferences - for your courage in fighting to protect the children of this state.
Let me also salute Governor David Paterson for his foresight in putting this issue on a special agenda because he felt it was important enough to allow the legislative process to take place and that it was goal he wanted to achieve before the end of this year.

Click here to view press release: Silver, Assembly Members Join Lenny Rosado, MADD, District Attorneys To Announce Introduction Of Toughest DWI Law In Nation