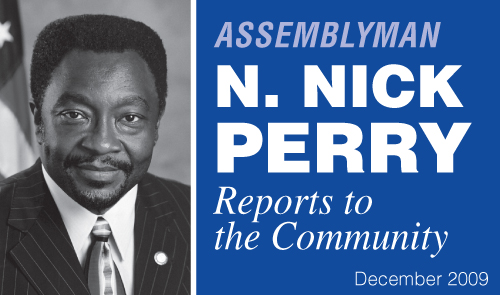 903 Utica Avenue (between Church and Snyder) (718) 385-3336

Dear Constituent:
It is my real pleasure to greet you, as we approach this year's holiday season. Please accept my very best wishes to you and all your loved ones.
I'm writing to you as we meet in Albany to consider the governor's proposals to implement the second round of budget cuts since we passed the State's Budget in April. If you have been paying attention to the new reports you'll certainly be aware that our state's economy has been hard hit by the financial collapse on Wall Street, and the global impact which continues to be financially catastrophic in many ways.
For most of the last century and into this decade, Wall Street has been the goose that continuously laid the golden egg for both the City and the State of New York. Suddenly however the eggs are no longer golden and we, unfortunately, were not at all prepared to cope with this reality. Together we have urgent and tough choices to make, and our challenge promises to only become more difficult down the road.
So this report comes to you at a critical time when we must make serious and very difficult decisions that many of you will never find acceptable. As we reviewed and discussed the Governor's proposal, it became quite obvious to us that we could still have the need to consider further cuts even before we do the 2010 budget. Under the worst of financial circumstances the legislature has reluctantly agreed to adjust the budget, but I assure you we worked as assiduously as we could to ensure that we avoided cuts that are not absolutely necessary at this time. I urge you to contact me with your concerns about what we have done and we will proceed to do as the crisis continues.
Gladly, this report is not only about our budget problem, and I'm quite pleased to also share with you some good news and important information that you will find quite useful. Please take some time to read, and also share this report with other family members, neighbors and friends. Please do not hesitate to call, write or visit me at the district or legislative office if you have any questions or concerns you want to bring to my attention. Thank you for your continued support, and for allowing me the opportunity to serve you. May you and all your loved ones, and your friends, enjoy a very safe and happy holiday season, filled with enormous joy and bountiful blessings from God.

Working for You,



Assemblyman N. Nick Perry
Forceful Action by Assemblyman Perry Blocks Placement
of Medical Waste Station Near Canarsie Homes and Schools
The owners of CMW Industries thought it was a done deal and expected their license application to sail smoothly through to approval. That was so, until Canarsie residents voiced their opposition and called up Assemblyman N. Nick Perry to help them fight to stop CMW's medical waste transfer station from being built right next to their homes and schools.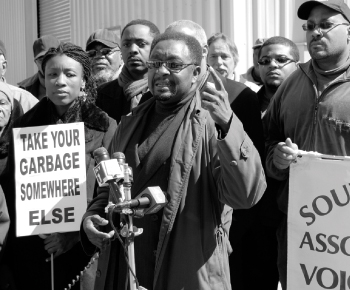 Not in Canarsie, No Way, No How!: Assemblyman Perry along with Senator John Sampson at rally with residents protesting the placement of a medical waste transfer station in Canarsie.
Acting swiftly and assertively, Assemblyman Perry authored and passed legislation in the Assembly, and with help from Senator John Sampson, who passed the bill in the NYS Senate, put some teeth to a law that already was in place to prohibit the placement of facilities like the proposed hazardous medical waste transfer station at sites like the residential block in Canarsie.
The bill, which was signed into law by Governor Paterson, forced the New York State Department of Environmental Conservation (NYSDEC) to put a hold on their decision to proceed with granting the application, and CMW is now required to provide certification that they could build and operate their transfer site without violating New York City zoning laws.
According to the New York City Department of Buildings (NYCDOB), the transfer station proposed to be built in the Canarsie residential neighborhood was in clear violation of NYC zoning regulations, and could not legally operate even with a license granted by the State. As a matter of fact, Assemblyman Perry contended that by granting an application, the NYSDEC would simply be saying it was OK for CMW to thumb its nose at NYC zoning laws. "And under no circumstances," Assemblyman Perry declared, "would this be allowed to happen."
Armed with a letter from the NYCDOB, stating that the CMW transfer station would violate zoning laws, Assemblyman Perry has put the NYSDEC's processing and acceptance of the application in limbo. And while NYSDEC has yet to make a final decision, a vigilant watch over the process is underway. Assemblyman Perry, along with his colleagues who also represent the neighborhood, are prepared to go to court immediately to stop the project should NYSDEC grant approval.
"The residents of Canarsie were loud and clear in their dissent," said Assemblyman Perry. "This potentially dangerous facility has no place in the community, so close to homes, schools and a subway line. This new law ensures that the NYSDEC will be able to do a better job of protecting our neighborhoods, so that no residential community will have to worry about a hazardous medical waste transfer station setting up shop in their backyard."
Governor Signs Perry Bill, Ending Inhumane Shackling
of Female Inmates During Childbirth in NYS
Assemblyman Perry speaks at a recent rally outside Governor David Paterson's Manhattan office, where over one hundred advocates gathered to urge the governor to sign Assemblyman Perry's anti-shackling bill into law.

Governor David Paterson signed into law a bill authored by Assemblyman N. Nick Perry that will put an end to the barbaric practice of shackling female prisoners during childbirth in New York State.

The legislative process has been long and challenging for Assemblyman Perry, who began to advocate on behalf of female prisoners nearly a decade ago, when he read of a mother's anguish while going through childbirth in shackles. Assemblyman Perry first introduced the anti-shackling bill in 2000.

"Several years ago, my attention was drawn to a human rights report detailing the agony and indignities of a female prisoner's experience giving birth while shackled," said Assemblyman Perry. "As a husband, father and grandfather, I was profoundly moved by the report, and I was stirred into taking action to make sure no incarcerated female would have to give birth in an environment lacking in safety, dignity and respect in New York. In our society people can end up in jail for so many reasons other than just being a bad person. So just being in jail should not justify denial of a woman's dignity or humanity. I am quite elated that this bill has been signed into law, thus putting an end to this barbaric practice, and assuring that no woman incarcerated in New York will ever give birth in chains again."

The widely used practice of restraining women prisoners during childbirth has been universally criticized. Amnesty International has referred to it as a "human rights violation," and the United Nations has strongly condemned the practice, equating it to torture.

Perry Introduces Bill to Save Jobs at Brookdale Hospital

Also Provides $40 Million to Rebuild ER

In response to the last summer's layoffs of over 200 employees at Brookdale Medical Center, Assemblyman Perry has introduced legislation aimed at halting any further cuts at the hospital, while allowing for the renovation of the hospital's emergency room.

Assemblyman Perry's bill A.8482B, sponsored in the State Senate by Senators Huntley, Sampson and Parker, et al., would reopen a now dormant state program which initially helped provide funding assistance for financially distressed hospitals. Reactivation of the program would allow Brookdale to take advantage of current low interest rates with a refinancing of its debts. The lower interest rate would reduce the hospital's monthly debt payment. In addition, the program would be restructured to allow the hospital to draw down up to $40 million for capital construction allowing for the redesign and rebuilding of the emergency room.

According to hospital administration, Brookdale's emergency room visits have risen dramatically over the past two years, and the current emergency room space is grossly inadequate to accommodate the high volume of patient visits. "I've been advised by healthcare administrators that the inability to deal with emergency room needs could be a potential health disaster waiting to happen if the community ever experienced a sudden epidemic or disaster," said Assemblyman Perry.

Assemblyman Perry has expressed concern about Brookdale being unprepared. "We cannot afford to lose anymore jobs at this facility, especially in these hard economic times," said Assemblyman Perry. "We also cannot stand by and watch the quality of our healthcare services deteriorate without responding with appropriate action to deal with the problem."

Assemblyman Perry's bill has already passed the State Senate, and every effort is being made to bring it to a vote in the Assembly, as soon as possible. Constituents are urged to write to Assembly Speaker Sheldon Silver and Governor David Paterson urging their support of the legislation.

Assemblyman Perry Introduces Clarente's Law in Memory of Six-Year-Old Constituent Killed in Tragic Traffic Accident

Assemblyman N. Nick Perry continues to gather support in Albany for the School Traffic Safety Zone Act, (A-5172) now renamed "Clarente's Law" in memory of Clarente Turner, a six-year-old boy who was killed on Kings Highway just two blocks from his school, PS 219, and across the street from IS 252, while walking home from school with his mother.

"This unfortunate and tragic accident is yet another gruesome reminder of the necessity to keep the streets around our neighborhood schools safe for students and parents on their way to school or elsewhere," said Assemblyman Perry. "Young Clarente was simply holding his mother's hand, while waiting to cross the street, obeying all traffic laws, and still the actions of a driver who had reportedly ran a red light, took his life and also resulted in serious injuries to his mother."

Clarente's Law would create traffic safety zones within a 250-yard radius around all schools in New York City. Under the legislation, penalties for traffic violations in these designated school safety zones would be doubled for certain moving violations. These increased fines would encourage safe driving practices, while serving as a deterrent to potentially careless drivers and decreasing the chance of the motor vehicle tragedies that too often occur near our schools. The bill is currently under consideration in the Assembly's Codes committee, and is being sponsored in the State Senate by Senator Martin Malave Dilan.




Perry Honors Fallen Heroes at Canarsie Memorial Day Parade

$250,000 Pledged to Renovate and Upgrade American Legion Post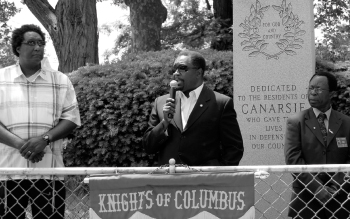 Assemblyman Perry (center) at post-parade ceremony with American Legion Post 573 Commander Carlton Richardson (left) and John Ezimoha of the Canarsie Knights of Columbus.

As participation in Memorial Day observations continue to fall to new lows and the real meaning of Memorial Day has vanished for many in our community, nonetheless, many Canarsie residents, joined by neighbors from other communities, continue to honor America's heroes with their participation in the Annual Canarsie Memorial Day Parade. Assemblyman N. Nick Perry spoke passionately to those in attendance at the American Legion Post 573 urging them to remember those who made the ultimate sacrifice in defending the freedoms of our land.

Assemblyman Perry, a US Army veteran, also toured the American Legion Hall and pledged support of up to $250,000 from the state to help repair and make renovations to the East 92nd Street building.




State Accepting Applications for Free Prescription $aver Card

New Program Will Save Eligible New Yorkers 30 to 60 Percent on Drug Costs

Assemblyman Perry is pleased to announce that the New York State Department of Health is now accepting applications for the new, free New York Prescription $aver Card. The program will offer participants significant discounts on thousands of prescription medications, providing savings of more than 60 percent on generic drugs and 30 percent on brand name drugs.

"We need to make sure everyone has access to the health care they need, and making prescription drugs more affordable is a critical part of the plan," said Assemblyman Perry. "Drug prices can be outrageous, and if you need a certain medication but you can't afford it, you're put in a terrible and potentially life-threatening situation. We need to make sure people can afford their meds, so they can manage their health and live long, healthy, productive lives."

The Prescription $aver Card program, which Assemblyman Perry helped pass last year (Ch. 58 of 2008), will serve low-income New Yorkers who are disabled, or are between the ages of 50 and 64. To be eligible for this benefit, the annual income must be $35,000 or less for single individuals. $50,000, or less for married individuals. Medicaid recipients, or those enrolled in the Elderly Pharmaceutical Insurance Coverage (EPIC) program, are not eligible for the Prescription $aver Card.

To learn more about the Prescription $aver Card program, or to apply, visit www.nyprescriptionsaver.fhsc.com or call1-800-788-6917. Applications are also available at many pharmacies, and Assemblyman Perry's District Office.




Stopping Swine Flu Is Up to You

Assemblyman Perry and the New York State Legislature are working closely with the Centers for Disease Control and Prevention (CDC) to address possible cases of H1N1 in New York. Assemblyman Perry wants to remind constituents that H1N1 can be treated with antiviral drugs, so there is no need to panic. Medical experts say your chances of being stricken with swine flu or seasonal flu can be diminished greatly by adopting some common-sense precautionary practices.
cover your mouth and nose with a tissue when you cough or sneeze;
wash your hands often with soap and water;
do not touch your eyes, nose or mouth, as germs spread easily this way;
avoid close contact with sick people;
clean household surfaces with a disinfectant;
follow public health advice regarding school closings and other social distancing measures; and
if someone in your home contracts the flu, check with your health care provider to see if the caregiver orother household members should take anti-virals to prevent the flu.
For the latest information about H1N1, visit the NYS Department of Health's Web site at www.nyhealth.gov/diseases/communicable/influenza/h1n1/ or contact Assemblyman Perry at (718) 385-3336. If you have questions or concerns about H1N1, you can also call the state's 24-hour toll-free flu hotline at 1-800-808-1987.
Assemblyman Perry's Campaign to Fix Up
Deplorable & Dangerous Brooklyn Streets Gets Results
Flatlands Avenue, Parts of Church Avenue and Linden Boulevard,
are Now Smoother and Safer for Drivers & Pedestrians
For the past two years Assemblyman N. Nick Perry has been calling on the city to repair the dangerous and deplorable street conditions prevalent throughout the borough of Brooklyn, and in his repeated complaints to the city Assemblyman Perry has specifically pressed for immediate repairs to streets in the 58th Assembly District.
Assemblyman Perry is now happy to report that recently the City has milled and resurfaced some of the local streets, about which many complaints have been lodged, including large portions of Flatlands Avenue, Church Avenue and Linden Boulevard.
In a letter to Mayor Bloomberg earlier this year, Assemblyman Perry wrote, "I would like to call your attention to the deplorable and dangerous conditions of certain roadways in Brooklyn which need your urgent attention and action to make these roadways safe for both drivers, and pedestrians. For years, I have complained of the dangerous conditions presented by sunken sewers, which are huge potholes, and grooves in the roadway, caused by the daily traffic of heavy vehicles, which have created their own wheel tracks, for entire blocks. These conditions create serious and life threatening situations for senior citizens, mothers pushing babies in strollers, and bikers using the roadway." The mayor never responded, but Assemblyman Perry kept the pressure up with regular letters to the NYC Department of Transportation's Borough Commissioner. Assemblyman Perry vows to continue the campaign until all our local streets are repaired.
"For many years I have complained to city officials about the poor road conditions in and around the 58th Assembly District," said Assemblyman Perry. "I hope the resurfacing of these streets is just the beginning of the restoration of Brooklyn's roadways."
Assemblyman Perry urges constituents to report to him if your local street is in bad condition and may be in need of resurfacing.
Perry's Workout Plan
Keeps Community Fit & Trim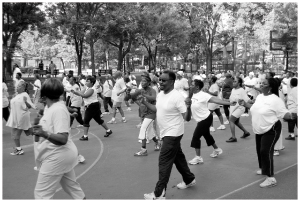 Assemblyman Perry (center) joins over one hundred constituents at the Community Health and Fitness Exercise Program at Paedergat Park in East Flatbush. Assemblyman Perry created the program in 2003, and has funded it ever since. The early morning program meets five days a week, May through October, from 6:00AM to 8:00AM.
Assemblyman Perry is exploring the possibility of expanding the program into Canarsie. If you live in Canarsie and would be interested in participating, please call Assemblyman Perry at (718) 385-3336.
HOWZAT!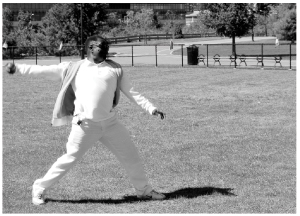 Assemblyman Perry perfects his bowling skills at the Celebrity Cricket Match at Gateway Field. A longtime supporter of cricket in Brooklyn, Assemblyman Perry was named "Bowler of the Match" for taking the most wickets for his team. Earlier in the summer, Assemblyman Perry visited the Brooklyn Children's Museum and at their Annual Sportacular he spoke to a group of children about the sport and demonstrated proper bowling and batting techniques.