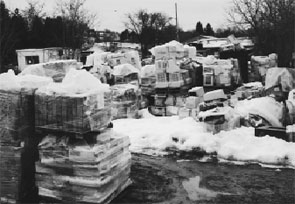 Electonic equipment stockpiled at Waste Management and Recycling Products, Schenectady.
---
Commission Chair William Colton has established recovery, reuse and recycling of electronic equipment as a priority issue for the Commission this year. Picture this contradiction of the throwaway society: tens of thousands of obsolete computers lie tucked away in attics or piled high in offices across the state; their owners, confounded by an apparent lack of reuse options, unable or unwilling to consign these expensive old electronics to the landfill. Not quite a "Twilight Zone" episode, perhaps, but the signpost up ahead indicates it's time to plan for management of these old computers.
"Old" in computer terms means almost new by other product standards. According to Stanford Research, Inc., today's personal computers are outdated in about three years, and may be outdated in as little as two years by 2007. With obsolescence rates like these, more than 31 million computers across the country will be retired in the next year alone.
Added to that total will soon be millions of old television sets. Current analog televisions will be discarded in ever greater numbers with the advent of high definition television, which all US television stations will be converting to by 2006. Although analog sets will still work with a converter box, an estimated 40 million households will have made the switch to a high definition television set by that time.
THE ENVIRONMENTAL PROBLEM
Computers, televisions and other electronic equipment present the same management concerns: tons of bulky waste containing hazardous constituents, which present potential environmental problems if burned or buried. For example, carcinogenic flame retardants are used in the plastic covers of computers and television sets. Six to eight pounds of lead are contained in each CRT (cathode ray tube) from computer monitors and television picture tubes. Lead is also present in the soldering on circuit boards. Other heavy metals, including trace amounts of cadmium, mercury and phosphorus, are used in circuitry.
Since the Federal Resource Conservation and Recovery Act (RCRA) classifies computers as hazardous waste if 220 pounds (approximately three computer systems) are discarded in a single month, businesses and institutions in particular must concern themselves with finding alternatives to disposal for their numerous outdated units. ( Note: Highlight this in a box?)
According to a National Safety Council report, only about 11% of the 24 million personal computers that became obsolete last year were recycled or reused, so it is clear that more progress must be made in developing a reuse/recycling/safe management infrastructure for computers, televisions and other electronic equipment.
According to Stanford Research, Inc., today's personal computers are outdated in about three years, and may be outdated in as little as two years by 2007. With obsolescence rates like these, more than 31 million computers across the country will be retired in the next year alone.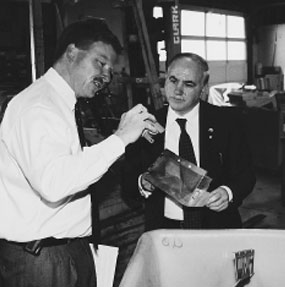 Peter Bennison of Waste Management and Recycling Products explains the elements of his computer reuse and recycling firm to Commission Chair Colton during a recent site visit.

THE ECONOMIC OPPORTUNITY
A 1997 U.S. Environmental Protection Agency (EPA) "Electronics Reuse and Recycling Directory" listed 12 outlets for old electronics equipment in New York State — most on Long Island and in New York City. Since the publication of the EPA directory, two newer enterprises for old computers have opened in the Bronx and in Schenectady, and more will surely follow, creating new jobs for skilled and unskilled workers. The volume of equipment discards is expected to peak in the next five years.
Per Scholas (www.perscholas.org) is a non-profit organization located in the South Bronx, and founded by a consortium of foundations and corporations to benefit children and the needy by providing new and reconditioned computers to schools and other non-profits at the lowest possible price. In its three years of operating experience, Per Scholas has placed over 10,000 computers in over 1,200 schools. The organization runs a significant training program, teaching young inner city residents to become computer technicians in a twelve-week program. In April of this year, Per Scholas opened a 50,000 sq. ft. facility, which will give the organization even greater capabilities for refurbishing or recycling old computers and training more city residents as computer technicians. Commission Chair Colton visited this facility in May.
Commission Chair Colton also visited Waste Management and Recycling Products, Inc., a Schenectady-based business that manages a wide range of surplus and outdated equipment, including computers. Company president, Peter Muscanelli, is also the founder of the International Association of Electronics Recyclers (www.iaer.org). Founding members of IAER include well-known industry giants such as IBM, Hewlett Packard, and Xerox. Waste Management and Recycling Products is currently managing about 25 tons of electronic equipment each month. According to a company brochure, they recycle 95% of materials taken in and send no materials to landfill. New York State's Environmental Management Investment Group (EMIG) awarded a $187,500 grant to the company, which will use the money to purchase equipment for grinding electronics components other than the cathode ray tubes. In the past year Waste Management and Recycling Products established agreements to take obsolete computers and peripherals collected by several municipalities and solid waste authorities, including the Town of Colonie, Schenectady County, the Albany-area ANSWERS waste consortium, and the Oneida/Herkimer Solid Waste Authority.
Another site visit by Commission Chair Colton is planned at the IBM remanufacturing plant in Endicott, New York.
Even with the development of these ventures, still more outlets for the growing flood of electronics equipment are needed. Beyond the bricks and mortar of fledgling collection and processing centers, there exists the need for a comprehensive policy framework on the safe disposition of residentially and commercially generated electronics.
STATE POLICIES AND PROPOSALS
On April 1st, a ground-breaking law took effect in neighboring Massachusetts: CRT's were banned from disposal f12 municipalities to help pay for CRT recycling.
New York State has no law on CRT's as yet, but there a bill under active consideration. A 6286 COLTON, ENGLEBRIGHT would ban the disposal of certain types of electronics equipment, require the Department of Environmental Conservation (DEC) to establish a public education program on the proper management of electronic equipment found in the home, and require manufacturers of electronics equipment containing hazardous components to underwrite the establishment and operation of collection centers. (The bill text can be obtained from the Assembly's web site: www.assembly.state.ny.us).
At least 11 states have legislation under consideration which would govern the disposition of computer and other electronics (C&E) equipment. However, time for considering options is running out and New York State must soon take action to direct the coming flood of electronics equipment into proper channels. The Commission will be actively engaged in efforts to develop a sound and equitable policy on the safe disposition of C&E equipment (see discussion of the Electronics Recycling Roundtable).