The Assembly Budget Resolution includes "Jobs Agenda 2001," a $470 million job-creation plan aimed at investing in high-tech industries, academic research and workforce training. This plan aggressively addresses the needs of New York businesses and provides the tools that will help them succeed in our new economy. The Assembly has been consistently working to create the good jobs New York families need and revitalize our economy. The Assembly Majority's "Jobs Agenda 2001" is a 7-point plan to overhaul New York's economic and job-creation strategies. Funding school-to-work partnerships involving education and businesses, stimulating apprenticeships, the Strategic Training Alliance Program, community college contract courses, and a program for post-secondary and graduate student internships in high-tech industries are important components of the plan and affirm our commitment to a strong workforce. Following is a description of some of these Assembly initiatives: Strategic Training Alliance Program
The Strategic Training Alliance Program was created by the Assembly in 1998. It was intended to address the business community's need for a flexible, user-friendly incumbent worker training program. Since the program was enacted in 1999, however, it has been mired in bureaucracy with two State agencies vying to jointly administer it. The Assembly Majority's plan would return the program to its original purpose. School-to-work Businesses and educators alike recognize that reaching students early in their academic experience helps them identify areas of interest that can guide youth into both higher education and the workforce. The Assembly plan establishes a statewide program to bring together secondary schools and businesses to provide students with information on occupations and career opportunities through business mentoring, work experience opportunities, curriculum support, and summer teacher placements. Community College Contract Courses
Community colleges, in both the SUNY and CUNY systems, are important sources of assistance for employers looking for skills training. The Contract Course program, linking campuses and area employers, provides customized, "on demand" training support with a very quick response time. Businesses can also use the program to address the need for "continuous" training. Internships
A high-tech internship program for post-secondary and graduate students would enable higher education institutions to develop intensive workshops and provide students exposure to simulated work situations and summer internship placements. The Assembly plan would retain New York's higher education graduates by linking them with employers that offer well paying jobs, particularly in technology.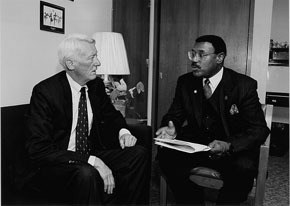 Assemblyman Scarborough meeting with Robert M. Richards, President, Jamaica Chamber of Commerce.
Catalog of Workforce Preparation Programs
The 2000 Catalog of Workforce Preparation Programs contains information on 75 State and Federally funded programs in 15 agencies. These programs provide education, training, and employment services to adults and youth. NYS Workforce Preparation Programs are designed to:
assist new labor force entrants and economically disadvantaged individuals;
upgrade skills of those already employed; and
acclimate those re-entering the workforce. For a copy of the Catalog call (518) 455-4865 or visit: http://assembly.state.ny.us