2009 Legislative Update from the New York State Assembly
Committee on Consumer
Affairs and Protection
Sheldon Silver, Speaker
•
Audrey I. Pheffer, Chair
Fall 2009
Message from the Chair
As Chair of the Assembly Consumer Affairs and Protection Committee, I am pleased to report the results of a successful legislative session. Among the Committee's top priorities were protecting consumers from improper debt collection practices and improving and updating New York's telemarketing law.
This year the Committee advanced several initiatives that have been enacted into law, including legislation that will require full and conspicuous disclosure of retail store return policies and a measure aimed at protecting consumers from deceptive automobile warranty solicitations.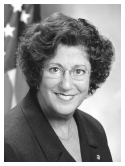 I am very proud of these and many other accomplishments. The Committee on Consumer Affairs and Protection will continue to pursue its goal of protecting consumers throughout all of New York State.

Audrey I. Pheffer
Chair
Strengthening New York's Retail Store
Return Policy Disclosure Law
Smart shoppers know that retail store return policies can vary widely from retailer to retailer, and that it is a good idea to review a store's policy before making a purchase. New York law requires retailers to post their return policies. However, this law, which has remained unchanged since its enactment in 1977, has failed to keep pace with changes in the retail market. Many return policies are quite lengthy and can involve several restrictions and fees, such as restocking fees. As a result, consumer confusion regarding these policies has increased in recent years. Over the past four years, the Consumer Protection Board has fielded over 2,000 inquiries and complaints from consumers about retail store return policies.
In order to ensure that New Yorkers are able to make more informed retail choices, the Legislature passed, and the Governor signed, A.7562 (Pheffer). This new law (Chapter 278 of the Laws of 2009) will remove an exemption from the existing return disclosure law that allowed retailers that provide cash refunds or credit an account within twenty days of the purchase to avoid the return policy disclosure requirement, require retailers to make a written copy of the store's return policy available upon request, and require a store's return policy posting to include whether returns will be subject to any fees, including restocking fees.
Debt Collection and Debt Management Hearing
During these tough economic times, mounting debt obligations have become a fact of life for many consumers. As a result, the debt collection and debt management industries are experiencing explosive growth. While many of those engaged in the business of debt collection and debt management are honest and ethical in their dealings, there are some unscrupulous actors in operation that practice abusive tactics. In 2008, consumer complaints received by the Federal Trade Commission regarding third-party debt collectors grew for the eleventh consecutive year and debt collection complaints topped the New York City Department of Consumer Affairs Department's annual complaint list for the first time in the agency's forty-year history. Complaints regarding debt management providers have also increased, and several published reports have raised serious concerns about their practices.
On May 14, 2009, the Assembly Committees on Consumer Affairs and Protection, Judiciary, and Banks held a joint public hearing to examine consumer protection in the debt collection and debt management industries. As a result of the information and testimony received at the hearing, the Assembly passed a package of legislation aimed at protecting consumers from unfair and deceptive debt collection practices, including legislation that would ensure that consumers are aware of their rights under New York's Fair Debt Collection Practices law and require third-party debt collectors and debt buyers to be licensed by the Department of State. These bills are awaiting action in the Senate. The Committee is also working with the Banking Committee on comprehensive legislation that would update the existing law regulating credit counselors and debt management companies and expand the law to include debt settlement companies.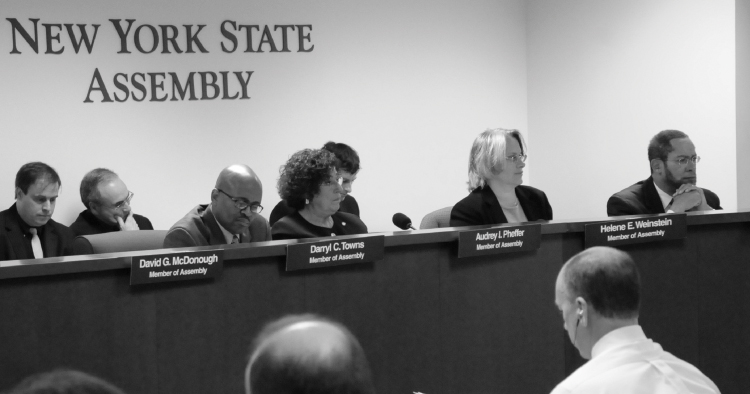 Chairwoman Pheffer listens to a witness present testimony at the Committee's May 14, 2009, public hearing on Debt Collection and Debt Management. The Committee heard testimony from almost forty witnesses, including consumers, government agencies, consumer advocacy groups, debt collectors, and credit counselors.
Automobile Warranty Scams
Have you received a prerecorded call containing an urgent message stating that your automobile's original warranty is about to expire along with instructions on how to get more information about extending your warranty? If so, you are not alone. In what has been revealed as one of the most widespread consumer scams in recent years, tens of thousands have been targeted by fraudulent enterprises that employ autodialing systems to flood consumers with unsolicited calls and mailings containing deceptive statements designed to lure motor vehicle owners into purchasing "extended warranty" products. Most of these so-called warranties are more accurately referred to as service contracts, which are designed to reimburse consumers for automobile repairs. Companies offering these contracts often fail to provide the level of coverage promised, and, in some cases, go out of business, leaving the consumer with no coverage and limited recourse to recover their previous payments.
In order to protect vehicle owners from deceptive automobile warranty policy solicitations, the Legislature passed, and the Governor signed, A.1627C (Zebrowski). This new law (Chapter 421 of the Laws of 2009) will prohibit any person or business entity from making false, misleading, or deceptive statements in regard to a vehicle owner's warranty policy provider. Under the law, the court will have the discretion to impose stiff civil penalties of $500 for each statement made to a consumer in violation, thus providing a strong deterrent to potential fraudulent actors.
Debt Management: Is it Right for You?
Are your debts piling up? Consumers with unmanageable debt should consider contacting creditors directly to negotiate a repayment plan or consulting an attorney about possible legal recourses. If these options fail to result in a satisfactory outcome, you may want to consider a debt management service provider.
Consumers need to be extremely careful when considering a debt management service provider and should be suspicious of any provider that makes over-the-top debt reduction claims (e.g. providers that promise to "cut your debt in half" or settle your debt for "pennies on the dollar"), charges hefty up-front fees, or pressures you to provide your financial account numbers before discussing the services provided and sending you a written agreement to review. While providers go by various names, there are three main types of providers offering their services to New York consumers.
Credit Counseling Agencies/ Debt Management Companies. Credit counseling agencies and debt management companies offer financial counseling and guidance to consumers with unmanageable debt. Based on the consumer's debt situation, a credit counselor or debt manager may enroll the consumer in a debt management plan in which the provider negotiates more favorable repayment terms with creditors on behalf of the consumer and receives and distributes monthly payments made by the consumer to creditors. Under New York law, these entities must be not-for-profit, provide financial counseling, and be licensed by the State Banking Department. When considering a provider, be sure to check if they are licensed by visiting http://www.banking.state.ny.us/sibudget.htm, or calling the Department at: 1-877-BANK-NYS.
Debt Settlement. Debt settlement companies do not negotiate with creditors upfront and most companies do not provide financial counseling. Debt settlement companies instruct their clients to stop paying creditors and instead accumulate funds in a savings account that can later be used as a bargaining tool to convince creditors to "settle" the debt for a target percentage of the principal balance owed. During the period when the funds are accumulating, creditors may impose additional finance charges and delinquency fees and undertake aggressive collection efforts, which can result in judgments, wage garnishments, and frozen bank accounts. Furthermore, if a settlement cannot be reached with a creditor, or the consumer fails to complete the agreed upon plan, most settlement companies do not refund the fees paid, leaving the consumer in a worse financial situation than when they started the plan. Finally, keep in mind that only a small number of consumers who hire debt settlement companies benefit from doing so.
Debt Negotiation. Debt negotiation companies offer to obtain interest rate reductions or other concessions from creditors in order to lower consumers' monthly payments. Unlike other debt management services, debt negotiation does not involve full repayment plans or lump sum settlements. These entities claim to work with creditors to make monthly payments more affordable. Keep in mind, however, that some debt negotiation companies charge significant up-front fees. Before using any debt management service provider, be sure to research its standing with the Better Business Bureau and the State Attorney General's Office.
Federal Credit Card Reform Legislation Enacted
After years of inaction in Congress, credit cardholders can finally look forward to several significant new protections. Achieving credit card reform has been a frustrating and lengthy process due in part to aggressive federal preemption, which effectively prohibited state legislatures from cracking down on abusive practices. During the previous legislative session, the Committee held a hearing on credit card practices and reported two resolutions, which the Assembly adopted, calling on Congress to enact comprehensive credit card reforms.
The Credit Card Accountability, Responsibility and Disclosure Act of 2009 will provide significant new protections for credit cardholders. The law requires card issuers to provide enhanced disclosures to cardholders, restricts the imposition of certain interest rate hikes and penalty fees, and limits the marketing of credit cards to young consumers. Key provisions of the new law include those restricting credit card issuers' ability to raise interest rates on existing balances; requiring card issuers to apply any amount paid over the minimum required payment to the balance with the highest interest rate; and prohibiting the imposition of over-the-limit fees unless the holder has authorized over-the-limit transactions. The law's provisions will take effect on February 22, 2010.
Enhancing Telemarketing Protections
Despite the success of the "Do Not Call" law, the Consumer Protection Board continues to receive more consumer inquiries and complaints regarding telemarketing than any other business category. In recent years, the telemarketing industry has increasingly employed new technologies, including systems that transmit prerecorded "robocall" messages, which have been the subject of numerous complaints. The Board has also received complaints regarding telemarketing solicitations that involve "negative option features," in which a consumer is provided a free product or service for a limited time. Consumers who are not adequately informed of the need to affirmatively decline the continued receipt of such products or services are often frustrated when they realize that they unknowingly signed onto a long-term commitment.
In order to enhance the Consumer Protection Board's ability to protect consumers from unsolicited telemarketing sales calls, the Assembly passed A.8839-A (Pheffer). This bill would provide the Board with the authority to enforce existing statutory restrictions prohibiting telemarketers from calling consumers after 9:00 p.m. and before 8:00 a.m. and requiring telemarketers to provide consumers with the identity of the telemarketer and seller, the purpose of the call, and the identity and cost of the goods or services being offered. The bill would also require telemarketers to disclose all terms and conditions related to offers that include a negative option feature. The bill is awaiting further action in the Senate.
Accurate Credit Reports: Key to Maintaining Your Credit Score
As creditors tighten their purse strings in this weak economy, consumers affected by unexpected events, such as job loss and medical emergencies, are at greater risk of seeing their credit rating diminish. Since many lenders use credit scores as a means to determine an applicant's creditworthiness, a low credit score can limit your ability to obtain access to credit and increase the cost of credit. While credit scoring models are complex and vary among creditors, nearly all models are based on the information contained in your credit reports. As such, it is important to order your free annual credit reports and check them for accuracy. False negative information can have a significant effect on your credit score. To order your reports, visit www.annualcreditreport.com or call 1-877-322-8228.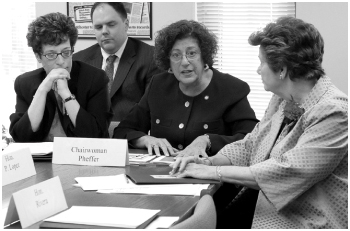 Chairwoman Pheffer responds to a question during the Committee's March 17, 2009, meeting at which Mindy A. Bockstein, Chairperson and Executive Director of the NYS Consumer Protection Board, seated to the right of the Chairwoman, gave a presentation on emerging consumer issues.
Free Trial Offer Law Expanded
New York's free trial offer law requires entities offering free trials to clearly and conspicuously disclose the terms of the offer and provide adequate notice to consumers regarding the deadline to cancel a free trial offer, after which a credit card is billed. While many free trials involve the use of a credit card, it has become apparent that some free trials do not. Consumers signing up for free trials offered by their wireless telephone service provider, for example, may utilize other forms of bill payment, including check, direct withdrawal, or in-store cash payment. To address this issue, the Legislature passed, and the Governor signed, A.4908 (Pheffer). This new law will require entities offering free trials to notify consumers of the deadline to cancel the offer regardless of payment method (Chapter 280 of the Laws of 2009).
Encouraging More Accurate Billing Practices
Consumers with "open end" credit accounts, such as credit card and department store charge card accounts, are advised to check their monthly billing statements carefully for billing errors, which can lead to unwarranted fees and finance charges. In order to encourage creditors to maintain accurate billing systems, the Legislature passed, and the Governor signed, A.8122 (Jeffries). Under current law, creditors found to have committed billing errors are liable to the consumer for an amount equal to the sum of any actual damages sustained, twice the amount of the billing error up to $100 (a punitive penalty), and the costs of the legal action, including attorney's fees. This bill, signed into law as Chapter 247 on July 28, 2009, and which took effect on September 1, 2009, increases the maximum punitive portion of the penalty from a maximum of $100 to a maximum of $400.
Unordered Goods
In order to boost sales, some companies have been known to ship unordered goods, such as a book or pocket knife, to consumers and then demand payment unless the goods are returned at the consumer's expense. This marketing technique is restricted under state and federal law, which provide that consumers who receive unordered goods may treat the merchandise as a free gift that does not have to be returned. Such goods must also be prominently marked with a notice that reads: "THIS IS A GIFT. PAYMENT NOT REQUIRED FOR THIS ITEM."
If you receive unordered goods, you are under no legal obligation to notify the seller, though it is a good idea to inform the seller via certified letter that you did not order the item, and that you will be exercising your legal right to keep it for free. You should be aware that the law does not apply to the receipt of any goods pursuant to an existing membership or club arrangement in which you agree to receive goods at specified intervals.
Despite the existing protections outlined above, consumers continue to report instances in which they received unordered goods. In order to encourage compliance with New York's law, the Assembly passed A.8049 (Zebrowski), which would authorize the Attorney General or any person adversely affected by a violation to bring legal action against a violator to recover the greater of actual damages sustained or up to $500 for each instance in which goods were sent in violation. The bill is awaiting action in the Senate.